6P/6P IEEE 1394 FireWire Cable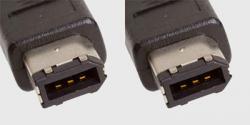 6P/6P IEEE 1394 FireWire Cable
Internal Reference :
Description :
IEEE-1394A FIREWIRE 400 6-Pin/6-Pin Cable
The IEEE 1394 FireWire compatible cable attaches a PC device (6-pin port), to your computer (6-pin port) at a transmission rate of up to 400Mbps.
High performance S400 cables for digital audio transfer.
6 pin connector
Firewire 400
IEEE 1394
(powered)
Features:
Connectors: 6-pin Male to 6-pin Male.
Data Transfer Rate: 400 Mbps.
Installs with Plug-and-Play ease
Provides extreme-velocity data-transfer rates via twisted-pair construction
Offers error-free data transmissions via molded-strain relief and PVC overmolding
Complies with the latest IEEE 1394 standards
PC compatible: Apple® FireWire®, Sony i.LINK®, and S400 compatible
Color: Black
Double shielded: foil & braid
Warranty: Lifetime
Ship Weight: 0.12 lbs
WHILE STOCKS LAST