Modular Adapters - to DB connecters | Converts DB9, 15, 25 connectors to RJ11, RJ12, RJ45, RJ69 female modular jacks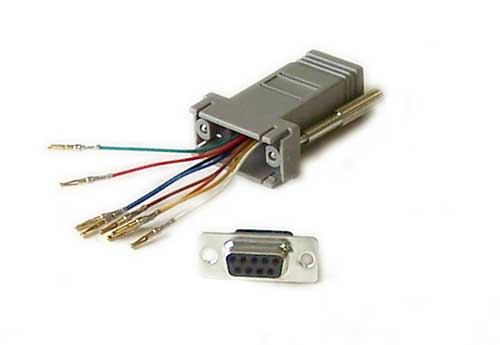 Modular Adapters - to DB connecters | Converts DB9, 15, 25 connectors to RJ11, RJ12, RJ45, RJ69 female modular jacks
Internal Reference :
Description :
Converts DB9, 15, 25 connectors to RJ11, RJ12, RJ45, RJ69 female modular jacks.
These modular adapters convert DB9, DB15, DB25 connectors, RS232, RS422 and RS485 serial port to RJ11, RJ12, RJ45, RJ69 female modular jack connections. The adapters come unpinned for custom pin out configuration.
Features
Used to convert serial D-Sub data connectors to modular RJ style jacks
30 micro inches gold plating for reliable connections
Long thumbscrews for easy access and attachment
Factory crimped leads snap into jacks quickly for field installation
Custom pinned option available
Application
Telecom/D-Sub conversion
RS-232
RS-485
Data networking
*Product appearance and specifications are subject to change without notice.

Specifications
Connector

RJ12

or

RJ45

or

RJ11

or

RJ50

Connector2

DB09

or

DB15

or

DB25

Gender

Female

or

Male