OM3 50µ Multimode Duplex OFNR Jacket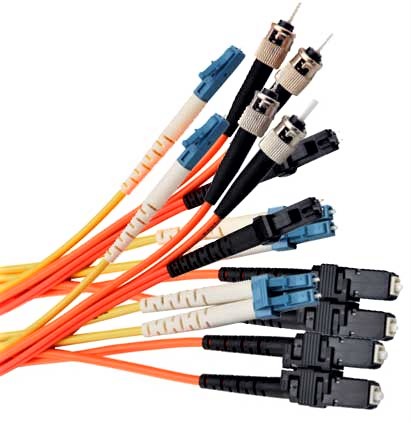 OM3 50µ Multimode Duplex OFNR Jacket
Internal Reference :
Description :
10Gb 50/125 Multimode Duplex Fiber Patch Cable - OM3
10 Gigabit Laser Optimized Aqua OM3 Fiber Optic Cables
Cablek's laser-optimized multimode fiber (LOMMF) cables are built for speed delivering 10Gb optical transmission over optical-fiber networks while providing backward compatibility with existing 50/125 equipment.
Tight-buffered 50-micron multimode cable optimized for 10-Gigabit Ethernet applications.
The jacket color for this category of cables is blue.
100% inspected and tested
Features :
10-Gigabit Ethernet runs up to 300 meters (50 microns)
Use with either LED or laser light sources
Ideal for backbone applications
LED/VCSEL light sources support up to 10Gb Ethernet performance
High grade PVC for durability
Applications


– Telecommunications
– CATV
– LAN & WAN
– Broadband
– FTTP
Features and Benefits
– Meet IEC, JIS, Bellcore GR-326 performance
– Guaranteed quality; 100% tested & inspected
– Custom assemblies available upon request
– OEM available upon request
– RoHS compliant
Warranty: Lifetime
Attenuation @ 850 nm
3.0 dB / km
Attenuation @ 1310 nm
1.0 dB / km

Bandwidth

LED : 1500 / 500 MHz / km

Laser : 2000 / 500 MHz / km RML 50 µm

Fiber Type
Laser-optimized multimode
Jacket
PVC, Blue jacket
Operating temperature
-40°C +75°C
Description:
Fiber Optic Patch Cord
50/125um multimode laser optimized fiber with 3.5/1.0dB/km attenuation at 850/1300nm and 10 gigabit ethernet distance of 300 M
Duplex 3mm zip cord, riser rated cable
LC PC connector(s) on end #1 with IL of 0.3dB Max.
LC PC connector(s) on end #2 with IL of 0.3dB Max.
Operating temp range -40ºC to +75ºC
Storage temp range -40ºC to +85ºC
Ferrule concentricity <1um
100% inspected and tested
RoHS compliant
Fiber Optic Patch Cable
50/125 10 Gig Multimode Fiber Jumper
Optical Specifications
| | | | | | |
| --- | --- | --- | --- | --- | --- |
| Connector Type | LC | SC | ST | MT-RJ | FC |
| Insertion Loss | = 0.3 dB | = 0.3 dB | = 0.3 dB | = 0.7 dB | = 0.3 dB |
| Return Loss | = 25 dB | = 25 dB | = 25 dB | = 25 dB | = 50 dB |
| Operating Temp. | -40°C +80°C | -40°C +80°C | -40°C +80°C | -40°C +80°C | -40°C +80°C |
Specifications
Length

0.5 m

or

1 m

or

2 m

or

3 m

or

4 m

or

5 m

or

6 m

or

7 m

or

8 m

or

9 m

or

10 m

or

12 m

or

15 m

or

20 m

or

25 m

or

30 m

or

40 m

or

50 m

or

60 m

Connector

LC/LC

or

LC/SC

or

LC/ST

or

MTRJ/LC

or

MTRJ/SC

or

SC/SC

or

ST/SC