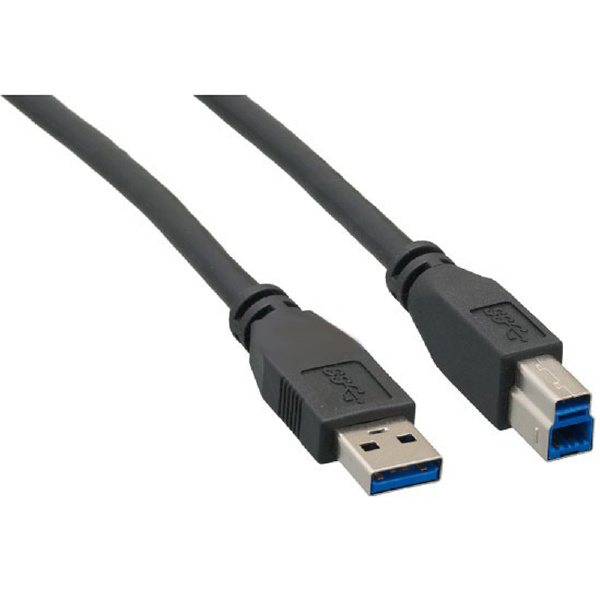 USB 3.0 A Male to B Male
Internal Reference :
Description :
SuperSpeed USB 3.0 cable A-B
SuperSpeed USB 3.0 cable (A-B) offers a durable, high quality connection that harnesses the full capability of the USB 3.0 standard.
Designed for next-generation SuperSpeed USB device connections, this USB 3.0 A to B Male/Male cable provides connectivity between a PC and hub or other USB A devices, delivering a throughput of up to 4.8Gbps when used with a USB 3.0 host and device - an astounding 10x the capability of USB 2.0 (480Mbps).
It is a Duplex cable simultaneously sending and receiving data yet is backwards compatible with computer USB 2.0 and USB 1.1 ports - these cables also allow connection of USB 3.0 devices to legacy USB 2.0 computers.
USB 3.0 A to B device cables feature high quality Shielded Twisted Pair (STP) construction, helping to prevent electro-magnetic interference and ensuring reliable data communication.
Technical Specifications
Connector 1: 9 pin USB 3.0 A Male
Connector 2: 9 pin USB 3.0 B Male
Type and Rate: USB 3.0 - 4.8 Gbit/s
PC and Mac compatible
Supports plug and play connections for devices such as external hard drives, modems, printers, scanners, VOIP devices other USB peripherals
Wire Guage: 28 AWG
Cable Jacket Type: PVC - Polyvinyl Chloride
Cable Shield Type: Foil shielded twisted pair
Color: Blue
Shipping (Package) Weight: .32 lb [0.14 kg]
Warranty: Lifetime
USB 3.0 Cable SuperSpeed USB 3.0 cable is the next generation cable which is also called the super-speed USB cable. USB 3.0 cable is designed to provide 10 times the data transfer speed than USB 2.0, the data transfer rate of USB 3.0 will come up to 4.8 Gbps theoretically. USB 3.0 cable retains the former USB products plug and play feature and it is fully compatible with former USB 2.0. USB 3.0 cable connectors are added 5 channels compared with USB 2.0, 4 of the 5 channels are used for a full duplex data transmission. USB 3.0 cable is not only higher speed but more efficient in power supply. Many digital products in the market will need to be powered via USB interface, USB 3.0 cable power ability is 900mA compared with former USB 500mA per port, this feature of USB 3.0 cable help make devices like mobile hard drives use less extra power lines and the USB hub could connect more equipment at the same time. This means that more power-hungry devices could be bus powered, and battery powered devices that previously charged using bus power could potentially charge more quickly.

USB Motherboard Connections
Specifications
Length

3'

or

6'

or

10'

or

15'

or

20'

or

25'