Fiber Optics Custom Cable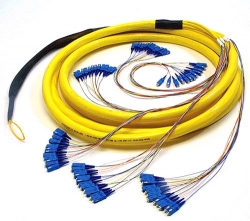 Fiber Optics Custom Cable
Internal Reference :
Description :
#CABLEK:
Custom Fiber Optic Cables
---
Internal Reference: Custom Fiber Optic Cables

Custom Fiber Optic Cable Assemblies
Fiber optic cable assemblies include a wide range of products like fiber patch cables, fiber optic pigtails, and fiber optic splitters. They all consist of fiber optic cables and fiber optic connectors. Cablek supplies the most commonly used fiber optic cable assembly products. Our fiber patch cables are made of premium quality materials from advanced manufacturing equipment. Cablek's fiber optic cable assemblies are supplied to world leading companies and university labs. Our fiber cable assembly products include the connectors SC, FC, ST, LC, MTRJ, MTP/MPO.
All of our products must pass stringent quality control tests before they are cleared for shipment to our customers. Contact us with your exact specifications.
Custom fiber optic cables we commonly build are:
Duplex fiber patch cords
6-strand breakout fiber cables
12-strand breakout/fanout fiber cables
24-strand breakout/fanout fiber cables
48-strand breakout/fanout fiber cables
Fiber optic pigtails
12-strand MTP/MPO fiber optic cables
24-strand MTP/MPO fiber optic cables
MTP/MPO fanout fiber optic cables
Armored fiber optic cables
Mode conditioning cables

Connectors we commonly build with are:
We can manufacture using all common fiber optic cable types:
62.5 micron multimode (OM1)

5

0 micron multimode (OM2)
50 micron multimode 10gig (OM3)
50 micron multimode 40/100gig (OM4)
9 micron multimode singlemode

Contact us to Order Your Custom Fiber Cables